New COVID Vaccination Centre
Posted on 24 May 2021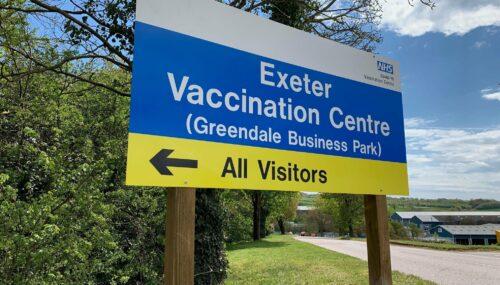 We are pleased to announce that the new Exeter COVID-19 vaccination centre is now entering its third week at Greendale Business Park, with the first vaccinations having taken place on Friday 7th May 2021.
Over a 5 week period from 29th March 2021, two areas of the Greendale Business Park and Greendale Farm Shop were developed into the new vaccination sites (one walk-in centre and one drive-through centre), designed alongside the Royal Devon and Exeter NHS Foundation Trust (R D & E).
This was only possible due to the help and support of a significant number of suppliers and contractors, who all worked tirelessly to assist the Greendale construction team in creating the two sites. We can't thank them enough for their support. Furthermore, the efficiency, decision making, helpfulness and adaptability of the R D & E team was quite incredible and a huge contributor to the delivery of the project.
Sam Kirkness, Group Head of Property at Greendale, said: "It has been great to be part of the national effort against COVID-19 and we have very much enjoyed working with the R D & E team to establish the new vaccination centre and then assist with any daily practical matters across the two sites."
"As a Business Park, we have and will remain open as normal whilst the vaccination centre is here and the sites have been designed to ensure as little disruption as possible to existing businesses and customers over the coming months."
"Alongside our huge thanks to the R D & E and the NHS more widely for their incredible efforts over the last year and in recent weeks with the establishment of this new centre, we would also like to thank East Devon District Council for their help and guidance at the outset."
For enquiries about COVID-19 vaccinations (including bookings) please click on the button below: